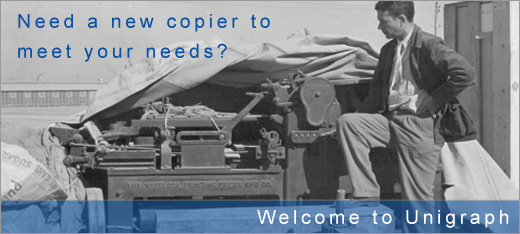 For over 40 years Unigraph has been at the forefront of all the developments in COPYING, DUPLICATING and PROJECTION. From small beginnings as a local city supplier the company rapidly became a nationwide force with divisions committed to servicing business, education, church, voluntary sector and the growing "home/office" market.
Unigraph is able to advise on the full equipment range for:
• Photocopying
• Copy Duplicating & Scan Printing
• Multimedia Projection
and for all other office machines, equipment and consumables.
Our ethos is not about just making a sale, though we certainly do want to do that! Our aim is to provide all that our customers need from us, at prices that are competitive and fair and where we take the responsibility of being around to give ongoing support.
40 years in business has resulted in thousands of Unigraph customers around the UK and far beyond. They range from government departments to local schools, from churches to national charities and from multi-national businesses to individuals working from home. All enjoy first class service from highly trained staff ready to respond with courtesy and enthusiasm.
Why not glance through our site or contact us on 0114 275 2801(phone) or 0114 275 9769(fax) or sales@unigraph.co.uk(email)